<![if !vml]>

<![endif]>
Back to Litters Page
Frequently  Asked  Questions
<![if !vml]> <![endif]>
Thanks for your interest in a Laura Kennels American Bulldog puppy.
Following is a brief description of how we go about placing good pups in good homes.  
Over time, customers call or write with similar questions, so here are answers
to these common requests.

Q:

 

What pups are available?

A:   Malachi pups, especially males are in high demand

so we have started taking deposits ahead on future litters.  If we don't have
a pick position available, we'll place you on our call-back list and offer you
a selection from the next litter.
Q:  How does the deposit and pick order work?
A:   We take three male and three female deposits on each breeding then wait until the pups are born to see
what is actually available.    First deposits get first picks.   We post the next available pick(s) on our "Litters" page
with each breeding announcement after working the call back list.   Deposits are honored in date order.   
In addition to establishing pick order by date, we make notes with your contact information such as
color preference or whether you are willing to move your selection to a different litter.  
We will work with you to get the pup you want.   If we cannot match
your preference in the current or another litter, we will refund your deposit (minus PayPal fee).
Q:  How do I pick out my pup?
A:   We will notify you within a day or two after pups are born and we know they are healthy.  By the time
they reach 12-14 days of age their eyes are open and personality traits surface.   We take photos and video
for you and begin communicating with you regarding a good match.   This process continues for 2-3 weeks
until selections are made in pick order.   If you live close enough to our facility in north Florida, we are happy
for you to visit us to make your selection in person provided you can do this within the very narrow window
of time available.   Weeks 4-6 are dedicated to puppy health and socialization; we will keep you updated weekly
with photos, video, and comments about your pup's development.    Weeks 7 and 8 are spent making preparations
and getting your pup ready for pick up.
<![if !vml]>
Q:  How much does a Laura Kennels AB pup cost?


A:   All our pups are $1,500 of which $350 deposit is required to obtain a pick position.
The $1,150 balance plus any shipping is due before transport or when
we hand the pup over to you.  
<![endif]>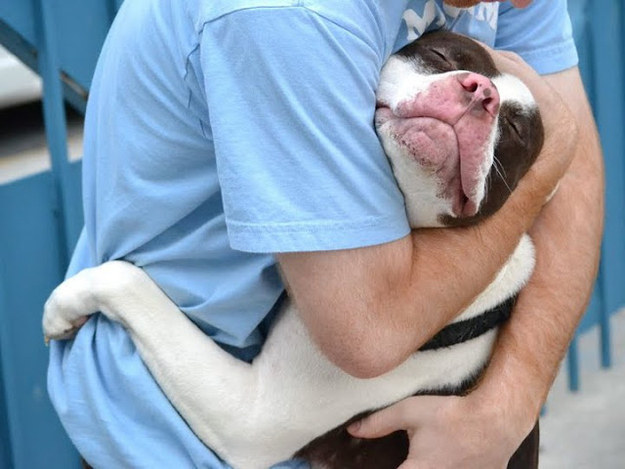 Q:  How much is shipping and how does that work?
A: Transporting puppies to their forever homes has become the most challenging aspect of our business. For over 25 years we have successfully transported pups by air cargo....but recent events have prompted airlines to revise their policies. We have looked closely at the new policies (effective June 2023) and feel that air cargo shipments have been totally pre-empted for this breed. In our opinion, the only alternative for long distance air transport is for us to meet you at ATL so that you can carry your pup in cabin back home.
<![if !supportLists]>Ø <![endif]> In order to carry your pup in cabin, you would need to plan your trip during a specific window of time (that we can meet you at ATL which is a four-hour trip from our facility). You would purchase a soft-sided carrier of the required dimensions established by your airline. Ten week old AB pups weigh 10-12 pounds and stand about 12" tall. They need a 10" wide space in which to turn around, and about 14" to lay down. We will supply a certificate of good health from our Veterinarian. Most airlines charge you an additional $125 air fare on your return trip home. For additional information on airlines and transport into Canada, click here.
The airlines requires you to keep puppy in the soft carrier during the flight. Our experience is that the motion and noise usually calms the pup and he/she sleeps most of the trip. You can usually get a flight in and out of ATL around mid-day. We park in short term and bring the pup over into the terminal to meet you. There are "puppy stations" in the terminal if you have to wait an extended time:
Hartsfield-Jackson welcomes its many guests, including those of the canine persuasion. To accommodate passenger pets and guide dogs, the Airport provides indoor Service Animal Relief Areas (SARAs) located in every concourse near Gates T7, A10, B33, C19, E14, F7 as well as D-Midpoint.
<![if !supportLists]>Ø <![endif]> Land transport might be available in the eastern half the U.S. and costs $800-$1,500.    A licensed/bonded driver picks up your pup from Laura Kennels and hand delivers it to your door usually within 36-72 hours.   Scheduling for land transport must be accomplished several weeks in advance and shipping fees must be received by the carrier at least 48 hours prior to date of pick up from us. We are happy to provide you contact information so you
can make arrangements directly with one of these carriers. We currently have no recommendation for a transporter service and caution you to credential
them carefully.
<![if !supportLists]>Ø <![endif]> You can pick up your pup in person from Laura Kennels in north Florida.   This is certainly our preference if  you can
drive or fly in to receive your pup because we get to meet with you, introduce the sire and dam, and your pup avoids the stress of traveling alone.
<![if !supportLists]>Ø <![endif]> We will bring yours to Atlanta airport, Mobile, AL or to Wildwood, Florida
to hand it over to you in person for $200.   This gives you another delivery option if you live within driving
distance of Atlanta, Mobile, or Wildwood, or Jacksonville.
<![if !vml]>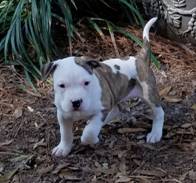 <![endif]>Q:  What does Laura Kennels do to assist with my pup's transition home?
A:   We are happy to discuss with you by phone, email, or text any concerns you have.  
Beginning at 2 weeks of age puppies are treated for parasites, vaccinated against
contagious disease, and socialized in preparation for their home-coming.   A booklet
of information will accompany your pup.   The book contains transfer of ownership,
NKC registration, detailed pedigree, and medical record of your pup including a
health certificate from our Veterinarian.   There is also reading material on grooming,
behavior, and nutrition.
Q:  How does Laura Kennels manage my pup's health?
A:   Our adult dogs have been screened for major canine diseases and hip dysplasia.   Dams eat raw diet
supplemented with high protein kibble, coconut oil, and vitamins.   We sit with our girls during the whelping
process and make certain pups stay warm and get colostrum immediately after birth.   We attend mom and
babies several times through the day and monitor them on closed circuit TV in between.   We perform health
checks as needed and follow a de-worm and vaccination schedule recommended by our Vet.   You will receive
a certificate of health from the Vet completed within ten days prior to placement.   Laura Kennels offers a one-year
replacement warranty for quality of life issues.
Q:   What do I feed my puppy?
A:    At three weeks we begin to wean pups off momma onto solid food.   The first thing we offer them is raw
ground turkey.   They thrive on the raw meat until week six when we offer grain-free puppy chow so that by
the time they go home, they will tolerate either raw or kibble diet.    We currently use Rachael Ray "Just 6" chow.
We will supply a sample of this kibble with your pup so you can mix it half/half  with your chosen brand for a smooth transition.   
Should you want to continue raw diet, guidelines and recipes are included
in <![if !vml]>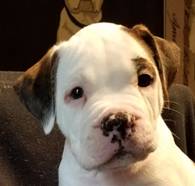 Back to Litters Page