Satisfied Customer
Sam Cernugal
Fairmont, NC

Cane






September 10, 1999

Dear Lynn,
I am writing you to tell you how pleased I am with
Laura Kennels and the wonderful puppy I have received.
I have named him LAURA'S CERNUGEL'S CANE. He is a
solid white male born 7/18/98. As of December 9, 1998
he is 58.7 lbs., and is still growing at a rapid pace.
Cane is registered N.K.C. as well as A.B.A.

I cannot stress enough on how pleased I am with your Kennel.
Dealing with you has been a wonderful enjoyment and is
something I think of every time I look at Cane. It makes
you feel very comfortable when you can trust the people and
the Kennel when you buy a dog.

I never saw Cane until he came in on the airplane and I had
already bought him. This is how much I trusted Tom and Lynn.
This is a letter of recommendation but it is all true and this
is my experience with Laura Kennels, and I am sure yours will
be the same as mine.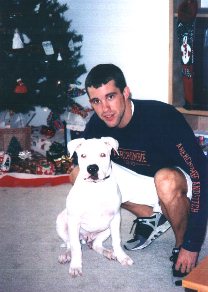 I am a big Raccoon Hunter in North Carolina. I have over
twenty coon dogs. I have been in the dog business for a long
time and had many experiences with people from all over the
nation, but this experience with Laura Kennels is one that will
stick with me for a long time to come.

Tom and Lynn, I would just like to say thanks and good luck
in the future. I do intend to stud Cane when he gets older.
I feel he has a lot of potential and have had many people offer
to buy him from me as well as people wanting puppies off of him
already. He is just that good looking of a dog at this young
of an age. He will be a sight to see when he is a year old!

Tom you would fall in love with the size of his chest and head.
He is enormous, very strong looking...
Good Luck!
Sincerely Yours,
Samuel J. Cernugel
Double S Kennels