Satisfied Customers
Jennifer & Joey Fisher
Lilburn, GA


Isaac / Cash pups







Dear Lynn & Herb,
Well, I'm completely convinced that Duke was a puppy from God. After we selected Grace that day Lynn (out of the clear blue) offered a second pup to Joey. She didn't know his first bulldog, Max, died of leukemia leaving a huge hole in his heart. No dog had, or could, replace Max.

Fast forward. Joey went through some horrible surgeries: one in June 2014, another in September 2015, and the last in December 2015. While I have no doubt Grace would have been a faithful companion, having two meant he was never alone. Duke however, was Joey's guardian. When his papa couldn't defend or take care of himself, Duke dutifully laid on that bed with him.

When we came to pick out Grace, we took lots of pictures. We have pictures of a kennel full of wiggly pups. And one pup sat there intent on us...staring...not wiggling. It was the little pink nosed pup...Duke. We didn't notice it at the time...just once we got home to look at the pictures.

I am convinced that Max was sitting there with Duke telling him that we were his family. And I'm pretty sure that Max tapped Lynn on the shoulder that day to tell her we were the ones for Duke. And we'll be forever grateful.

Merry Christmas and Happy New Year!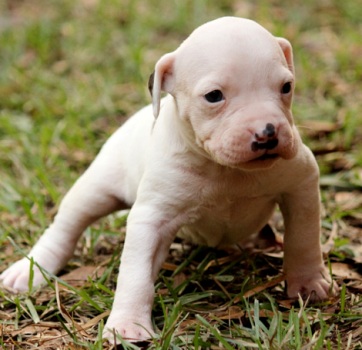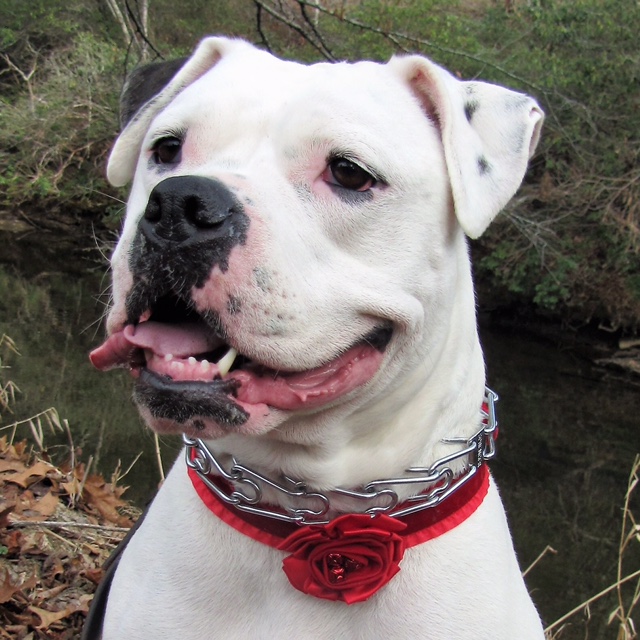 "Grace" age 4 weeks.......................... and 3 years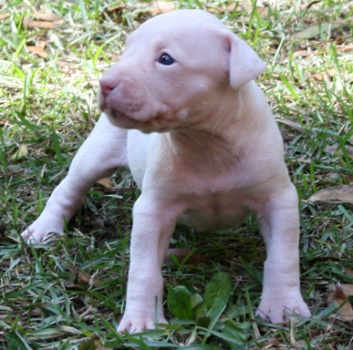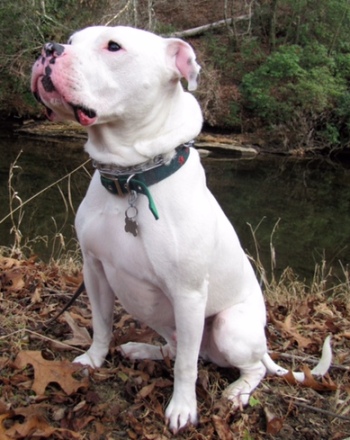 "Duke" age 4 weeks....................... and 3 years






(Original Report Submitted 2013)

Dear Lynn,

Thank you for picking out the perfect mommy and daddy for us. We
really like our new home. We're also really glad that you sent
Duke home too. We like having each other.

We have lots of toys!!!! Mommy and daddy feed us some really
yummy food, but there's just something missing...like sticks and
pine cones. Now those are super yummy! Mommy and daddy make us
sit still to get our food bowls. It's like torture I tell
ya...torture! And now they've upped the ante...no barking while
they scoop. Sometimes we're so anxious, we're sitting still but
we can't help it...we drool on the floor while we wait! We get
our butts still...but we just can't help the drool.

Mommy and Daddy make us work with this nice lady named Terie. We
really like her, but man she makes us behave. We thought it would
be way better if we got to do whatever we wanted, but this isn't
so bad. We're getting pretty good with our sits, stays, and
downs. We do really well for "kennel". We're getting really good
walking on leashes. I (Duke) have been to Academy Sports with
mommy. I was the star of the show riding in the cart. It took a
few minutes to get used to it, but once that employee lady came
out to love on me, I figured out this was an awesome place to go.
We've both been to Petsmart now. There were so many things to
look at...and mommy and daddy brought home even more toys.

Yesterday, mommy took each of us for a nice long walk. We were
both sooooo good (we promise)! We trotted along right next to
mommy. We didn't pull. We didn't stop to eat (too many) sticks.
We kept making eye contact with mommy and she kept telling us how
good we were and how beautiful / handsome we are. Since we're
doing soooo good with walking on our leashes (and since we're done
with all of our puppy shots), mommy and daddy said we can go for a
walk in the park today!!! Yaaaay!

We're doing pretty well with our potty training too. We have
occasional accidents, but not too many. When we have accidents
though, it usually involves baths. We weren't too sure about the
whole bath thing at first, but we like them...oooh...nice warm
water and a sudsy massage...they feel so good. When mommy says
"let me wash your paw" we lift up one paw at a time for her.
She says our feet have to be clean too. The best part is at the
end, we get to cuddle wrapped up in towels!

We love our older brother and sister, Oscar and Dianna. We like
to roll around on our backs on the floor and play with Oscar.
With Dianna, we like to cuddle and give her kisses. We're so glad
that they love us too!

We agree that our favorite time of day is at the end of the day.
Mommy and daddy pick us up and put us in their laps on the couch.
We LOVE cuddle time. That's the best! We snuggle in and fall
asleep on mommy's and daddy's laps.

Thanks again for sending us home with a great mommy and daddy. We
love them and they love us.