Satisfied Customers
James & Kirsten
Burlington, CT
"Tyson"
Malachi / Cash Pup
Born 1-17-17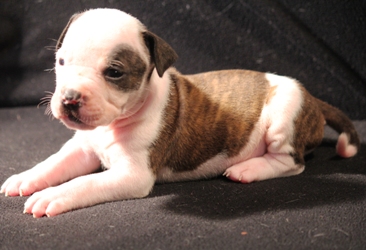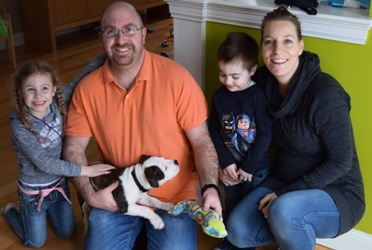 Tyson at 6 weeks Tyson with his "pack"
Willow, James, Oscar, & Kirsten




Hi Herb & Lynn,

It's been a while since you have heard from us, but I wanted to let you know that Tyson is doing great! He is growing into a big boy! I remember when he arrived to us a month ago and he nearly fit in just one hand, and now he is almost too heavy and big for me to lift him up!
In March my family from Holland came over to see Tyson and they are super crazy about him as much as we are. Now that the weather has finally cleared up we take Tyson out on regular walks and he loves it! He is a very good walker and stays with the 'pack'! I think Tyson thinks the stroller is the pack leader because he always wants to walk next to it and does not want to end up too far behind it!
Mid April we are starting with puppy training. We are really excited about that. We already started him on some commands like 'look' and 'sit' which he masters fully so he is a very smart dog and we can't wait to see what else we can teach him!

Tyson fits absolutely perfectly into our little family. The kids are crazy about him and so are 'mommy' and 'daddy'. We are very lucky that he came into our family! So thank you very much for making this happen for us!
Kind regards,
Kirsten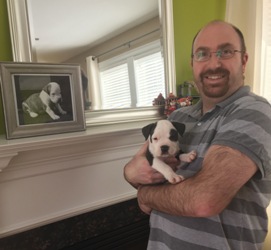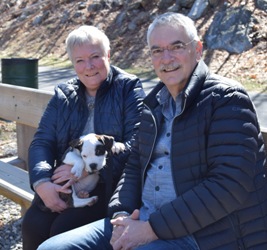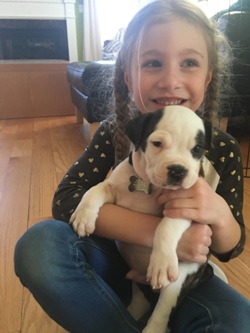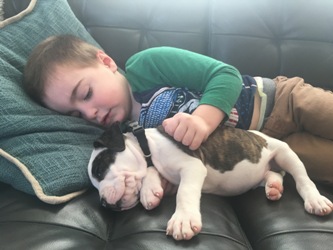 James put Tyson's photo Grandparents from Holland Willow is the Tyson stays close to Oscar's stroller
on the mantle before Tyson get to meet Tyson perfect big sister on family walks
ever arrived! during their visit to the US to Tyson and enjoys nap time with Oscar as well