River Junction Tribune
December 1930
Contributed By Mary Leah Williams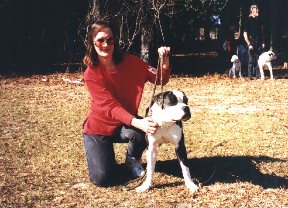 Mary Leah Williams with "Boss"
Clayhill Farms
------------------------------------------------------
Printed in the RIVER JUNCTION TRIBUNE, dated December 26, 1930, this story is a great testimony to the attributes of our faithful, working breed -- which many of them still retain, nearly 70 years later ........... (The former town of River Junction is part of present day Chattahoochee, Florida, located just below the southwestern border of Georgia)
------------------------------------------------------

Headline:
"Faithful Dog Gives Life to Save His Master"

(Presumably this article was authored by the editor and publisher of the RIVER JUNCTION TRIBUNE, C. Spurgeon Dunn)


"Faithful unto death" is the epitaph that should be carved for the bulldog of Byrd Franklin, if epitaphs were carved for valiant dogs that leap dauntlessly into the teeth of danger and overwhelming odds to the rescue of beloved masters.
For Franklin's bulldog saved Franklin from death on the horns of a maddened bull, but in doing so gave his own life. The bull, straying from his pasture, had entered an oat field on Franklin's farm several miles southwest of Moultrie, Georgia. The farmer went to drive the animal from the field, and the bull, which is usually good natured, turned upon him with a lunge. Before he could side step the plunging, surprising attack, Franklin was thrown to the ground, with a hole in his side from the ripping horn.
Lying defenseless and stunned upon the ground, the farmer's life was in immediate peril. The bull tore at him again, powerful head lowered and frothing at the mouth. There was a flash between the helpless man and the threatening animal. Franklin saw his bulldog fling himself upon the bull. He then saw the enraged animal pause only a few feet from him with a nerve shattering roar of pain and rage.
The dog, coming to the rescue of its master, had flung himself upon the attacking animal which weighs nearly a ton. Leaping, the dog caught the bull's nose in his teeth and hung there grimly.
Franklin clamored to his feet and ran for his life, while the bull shook its head in an effort to tear the clinging dog away. It was not until the farmer reached the safety of a nearby fence that the bull succeeded. Franklin looked back and saw that the bull had shaken himself free and plunged its horn through the body of the heroic dog. His valiant rescuer was then tossed into the air and trampled to death as it fell.
Although badly lacerated, Franklin will recover, it was said by the surgeon who treated his injuries.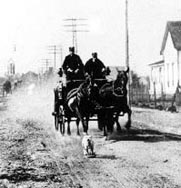 Pictured here is an American Bulldog running ahead of a fire wagon
down the streets of what is now Dothan, AL circa 1908. Photo is
courtesy Mary Leah and Ronnie Williams of Sneads, FL.