I want to be a Champion like my American Bulldog.
Courageous enough to face danger with the confidence of who I am.
Driven enough to pursue those things that I was created to run after.
Tenacious enough not to ever give up.
Kind enough to consider those around me.
Forgiving enough not to hold grudges
and
Loyal enough to never forsake those that depend on me.
Help me God to be a Champion !!
Lynn Hall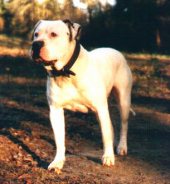 Joshua's Elijah

(Son of Cowboy)

12-29-1996 / 04-08-2005

Come, Enjoy An Adventure With Tom Farmer and Eli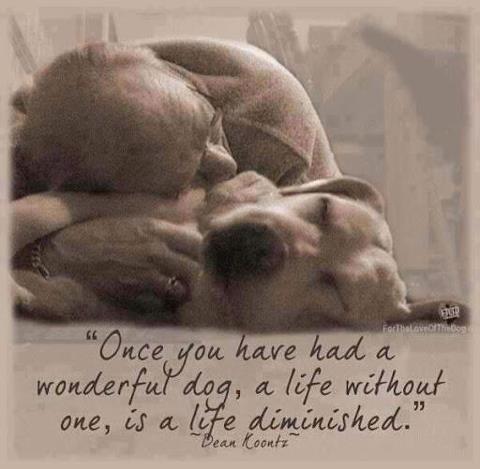 The Family Dog
The family's dog was bought for a guard.
Chained to a post in a chilly backyard.
Housed in a shed that was airless and dark
And every few weeks had a run in the park.

When boredom set in with no fun and no work
One day it broke loose and went quietly berserk.
Pa couldn't fathom just why it went wild
As it flattened his wife and then bit his child.

The police were called in to sort out the mess
And the whole sorry tale was revealed by the press.
The Rescue Society was really annoyed,
So, the dog was re-homed---and the owner's destroyed.
Author unknown


"I care not for a man's religion whose dog and cat are not the better for it."
Abraham Lincoln (1809 - 1865)

"We who choose to surround ourselves with lives even more temporary than our own,
live within a fragile circle, easily and often breached.
Unable to accept its awful gaps, we still would live no other way.
We cherish memory as the only certain immortality,
never fully understanding the necessary plan." Irving Townsend

OUR GOAL IS TO PRODUCE
A QUALITY, WORKING, WELL-ROUNDED
AMERICAN BULLDOG WHICH PRESERVES
ORIGINAL CHARACTERISTICS
HELD IMPORTANT BY OUR ANCESTORS

Lynn Hall
Greenwood, Florida

850-251-0298
Click The PayPal Button Below

To Submit A Payment To LAURA KENNELS
(Be Patient....This Link Is Slow Due To PayPal Security Features)
This web site created and maintained by
Herb and Lynn Hall

copyright©1997
All Rights Reserved
Laura Kennels